Practice Partnerships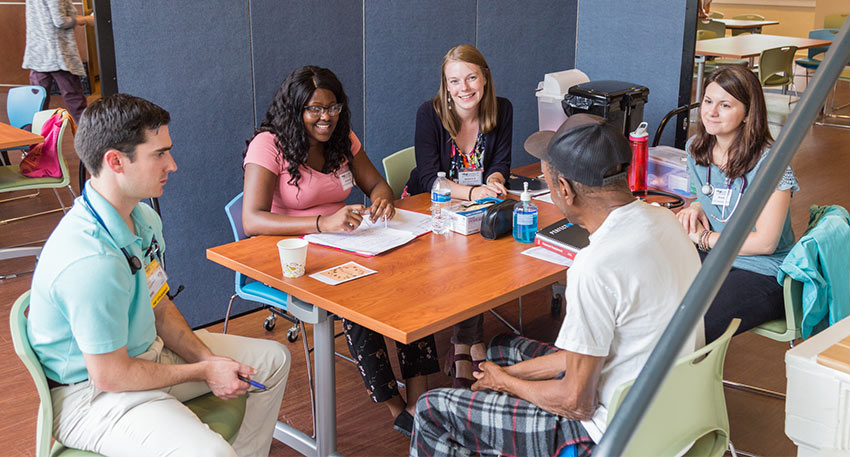 Imperial Plaza and Plaza Pharmacy
Plaza Pharmacy is located within Imperial Plaza, a large retirement community with approximately 900 independent living residents and 150 assisted living older adult residents. The School and Imperial Plaza have partnered for over ten years to provide APPEs, service learning, and research opportunities for pharmacy and graduate students, and innovative pharmacy services for older adults. Through an on-site pharmacy clinic, Plaza Pharmacy staff and School of Pharmacy faculty and students develop, implement, and improve services in response to needs expressed by the community. Ongoing services and activities provided through the clinic include individualized patient counseling, medication reviews, blood pressure monitoring, immunizations, health screenings, and medication therapy management sessions.
Richmond Health and Wellness Program
RHWP operates interprofessional enhanced care coordination clinics in low-income senior housing buildings in the Greater Richmond area. The flagship program partnership is with Dominion Place an independently owned apartment complex for eligible low-income elders. To begin addressing the healthcare challenges within this community, Dominion Place and VCU partnered in April 2012 to implement an on-site wellness clinic with a focus on improving health outcomes while decreasing non-emergent healthcare utilization. P3 service learning students and P4 APPE students to enhance their understanding of appropriate, comprehensive geriatric care as interprofessional pairs of students from the Schools of Pharmacy, Nursing, Medicine, and Social Work provide care coordination through health screenings and counseling services with a focus on diabetes, hypertension, and medication management. The partnership has received three grants including a $1.5 million HRSA grant to refine services at Dominion Place and to replicate the practice model at 4 other sites in downtown Richmond. RHWP is the foundation of the Health and Wellness in Aging Populations core of the VCU Institute of Inclusion, Inquiry, and Innovation (iCubed).
Richmond Area Compassionate Care Connection (RACCC)
The RACCC is a non-profit 501(c)(3) corporation designed to assist patients who cannot afford their necessary "brand name only" medications. Developed as a partnership of Senior Connections(Richmond's local Area Agency on Aging), and the VCU School of Pharmacy in 2010, the pharmacy applies to the assistance programs of pharmaceutical manufacturers on behalf of its patients. Unlike other area pharmacies providing a similar service, RACCC does not operate in association with a clinic and thus serves any patient who has access to a doctor or nurse practitioner but cannot afford their medications. RACCC also provides medication therapy management services for its clients to improve the overall use of medications in this population who often experience uncoordinated care. VCU faculty and students supported VCU School of Pharmacy alumnus Ron Gregory, who now serves as the Pharmacist-in-Charge, to obtain funding and premises and to establish the nonprofit pharmacy. The RACCC serves as a venue for P3 service learning experiences and as a community outreach service of the VCU SOP.
VCU Health Geriatrics Consult Service
School of Pharmacy faculty members are active participants in the interprofessional Geriatric Consult Service at the VCU Health System. Medical and pharmacy preceptors and trainees are consulted for hospitalized patients 65 years of age or older and those with geriatric syndromes, like a history of falling. School of Pharmacy faculty participate in hospital rounds, patient education, and interprofessional education. APPEs and research opportunities are available through the VCU Health System Geriatric Consult Service.
Center for Advanced Health Management (CAHM)
The VCU Center for Advanced Health Management (CAHM) is a home base for an advanced comprehensive care model for qualifying patients with complex care needs, including older adults. The CAHM provides comprehensive adult and geriatric care including: ambulatory primary care, consult-driven care, in-home primary care through the house calls program, transitional care and nursing home care. These services are supported by an interdisciplinary team of providers and trainees, including pharmacy, nursing, medicine, social work, psychology and psychiatry. Fourth year pharmacy students participate in patient care activities focused on primary care and geriatric syndromes for complex, multimorbid individuals and older adults in a primarily ambulatory setting.